Newsletter - Volume 5 Issue 1 - Spring 2010
Click here for a printable version (PDF) of this newsletter.
(Get Adobe Acrobat)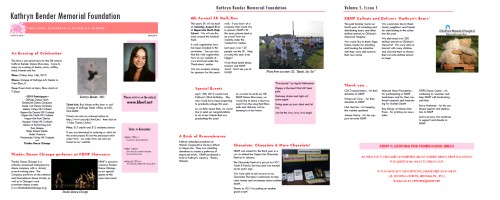 Inside this issue:
An Evening of Celebration
Thodos Dance Chicago performs at KBMF Showcase
Dates to Remember
4th Annual 5K Walk/Run
Special Events
A Brick of Remembrance
Chocolate, Chocolate & More Chocolate!
'Kathryn's Bears' to be Collected in December
Thank you...
KBMF is Looking for Fundraising Ideas
An Evening of Celebration
The time is just about here for the 5th Annual Kathryn Bender Dance Showcase. Come to enjoy an evening of dance, music, raffles, food, friends and fun.
When: Friday May 14th, 2010
Where: College of DuPage Arts Center in Glen Ellyn, IL
Time: Event starts at 6pm, Show starts at 7:30pm
~2010 Participants~

DuPage Dance Team
Extensions Dance Company
Inside Out Dance Company
Metea Valley HS Orchesis
Naperville Central HS Orchesis
Naperville North HS Orchesis
Naperville Park District
Neuqua Valley HS Orchesis
School of Performing Arts
Soul Unique
Steps Dance Center
Under Pressure
Waubonsie Valley HS Orchesis
and
Thodos Dance Chicago
Ticket Info: Buy tickets at the door or call College of DuPage Ticket Office at 630-942-4000.
Tickets can also be ordered online at: http://www.cod.edu/ArtsCntr/index2.htm, then click on "Order Tickets Online"
Price: $15 adults and $12 students/seniors
If you are interested in ordering a t-shirt for the event please fill out the enclosed t-shirt order form. An order form can also be found on our website.
Thodos Dance Chicago performs at KBMF Showcase
Thodos Dance Chicago is a critically acclaimed contemporary dance company with a vibrant, award-winning style. The Company performs on the national and international dance circuits, as well as in Chicago's most prominent dance events. (www.thodosdancechicago.org)
KBMF is proud to welcome Thodos Dance Chicago as our special guests at this years showcase!
Dates to Remember
~April 15th~
Kathryn's 22nd Birthday
~May 14th~
5th Annual Kathryn Bender Dance Showcase
~August 21st~
4th Annual KBMF 5K Walk/Run
4th Annual 5K Walk/Run
This years 5K will be held on Saturday August 21st at Naperville North High School. We will use the track around the football field.
A walk registration form has been included in this newsletter. You can also find the walk registration form on our website at www.kbmf.net under the 'Fundraisers' section.
We are currently looking for sponsors for this years walk. If you know of a company that would like to sponsor KBMF's 5K this year, please send us an e-mail from our website under the 'Contact Us' section.
Last year, over 125 people ran the 5K. Help us make this year even bigger! Grab those tennis shoes, strollers and KBMF visors! We'll see you at NNHS!
Special Events
"Everybody" by Ingrid Michaelson
Happy is the heart that still feels pain
Darkness drains and light will come again
Swing open up your chest and let it in
Just let the love, love, love begin
April 15th, 2010 would mark Kathryn's 22nd birthday. She also would have been preparing to graduate college this year.
As we think about that, we would like to send our congratulations to all of her friends that are graduating this year!
As we look towards our 5th KBMF Dance Showcase, we would like to share a short excerpt from the song that Elizabeth and Nicholas will be dancing to in her honor.
A Brick of Remembrance
Kathryn attended preschool at Hobson Cooperative Nursery School in Naperville. They are collecting donations to create a pathway of engraved bricks. KBMF purchased a brick in Kathryn's memory. Thanks Hobson!
Chocolate, Chocolate & More Chocolate!
KBMF was asked for the third year in a row to attend the Naperville Chocolate Festival in January.
The Chocolate Festival is put on by NCO Youth & Family Services and was started seven years ago.
We were able to sell several of our Chocolate Thursday's cookbooks to help raise money and awareness about sudden death.
Thanks to NCO for putting on another great event!
KBMF Collects and Delivers 'Kathryn's Bears'
This past holiday marks our fourth year of collecting and distributing bears and other stuffed animals to Children's Memorial Hospital.
We would like to thank Steps Dance Center for donating and housing the collection until they were delivered to their new home!
We would also like to thank family, neighbors and friends for contributing to the collection this year.
We delivered over 200 stuffed animals to Children's Memorial! We were able to interact with many children and allowed them to choose their favorite stuffed animal to keep!
Thank you...
CSX Transportation - for their donation to KBMF
Honeywell Corp. - for their donation to KBMF
Nick Melville - for keeping the website updated
Joanne Marty - for her support towards KBMF
Midwest Heart Foundation - for participating in KBMF fundraisers and for their continued research and fundraising for Sudden Death
Ray Kinney at Minute Man Press - for printing our newsletter
STEPS Dance Center - for continuing to volunteer and help KBMF with fundraising activities
Steve Mahoney - for his continued support and dedication to KBMF
And everyone who continues to support and donate to KBMF
KBMF IS LOOKING FOR FUNDRAISING IDEAS!
AS WE LOOK TO BROADEN AWARENESS ABOUT SUDDEN DEATH, KBMF IS LOOKING FOR ADDITIONAL WAYS TO REACH OUT.
IF YOU HAVE ANY SUGGESTIONS, PLEASE KEEP US IN MIND!
(I.E. SPORTING EVENTS, RESTURANTS , ETC.)